An Exciting New Approach to Ancient Egypt
For KS2!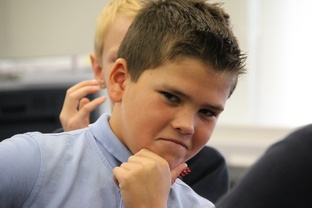 I have learnt that a queen called Hatshepsut was a female pharaoh that wanted everyone to see how she could be a great ruler as a consequence she ordered a lot of buildings to be built and had a tall tower carved from stone and covered in gold foil.
Year 6 Boy Hady Primary School
---
Building on the huge success of previous Whitworks projects, we now have a new programme exploring the world of Ancient Egypt. As always, Whitworks looks for new angles and fresh perspectives. This work focuses on the reign of Female Pharaoh Hatshepsut and also looks at the fashion craze for all things Ancient Egyptian that swept the world in the 1920s following the discovery of the tomb of Tutankhamun.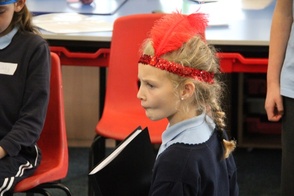 I think it is a good idea to use drama because you remember much more things by using drama instead of a normal history lesson. By doing this you can remember things and if you have homework it is easier. Year 6 Girl Hady Primary School


---
Based around a brand new play written specifically for this project, pupils will have the chance to undertake creative, experiential, cooperative group work whilst exploring facts and opinions about Ancient Egypt.

The play is

THE FLAPPER AND THE FEMALE PHAROAH

in which imaginary British silent movie star Clara Ribbon meets archaeologist Howard Carter in her quest to find the story of a strong female character from Ancient Egypt for her latest film project. The script mixes dialogue, pair work, mimed silent movie scenes and historical images and information to give pupils access to the world of Ancient Egypt.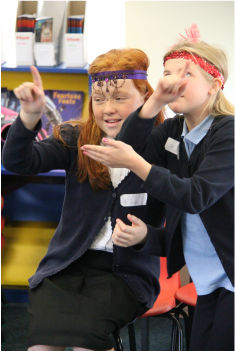 The programme will be led by Gertie Whitfield who will use her wealth of skill and experience in effective drama delivery to help pupils bring the script to life. Gertie will bring 1920s style headbands and bow-ties for every pupil – to help them in to the spirit of the Flapper age.

It really is 'the kipper's knickers'!