This was an amazing day. The kids haven't stopped going on about it and want to know why we can't do that every day.

Stacey Bailey Year 6 teacher / SENCO Totley Primary School
The day allowed my class to develop confidence, an interest in the topic and a chance for everyone to be involved. The achievement of some children was unexpected and stunning.
I truly thought the day was brilliant. Well thought through and highly engaging.

Jodie Stewart Y6 Teacher Hunloke Park Primary


The Queen Emma experience is available from Year 2 upwards in age appropriate forms.

The Year 5/6 package fulfills the new History curriculum which requires primary History to end in 1066. It will cover the Viking and Anglo-Saxon struggle for the Kingdom of England to the time of Edward the Confessor. (NC 2014)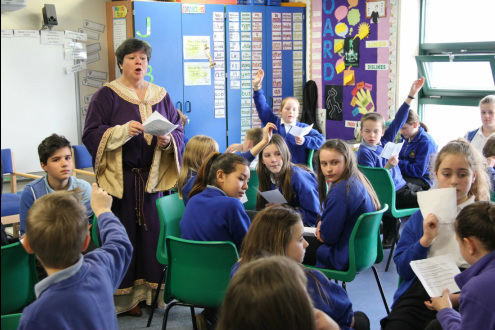 I liked how it felt like Queen Emma was actually there and you could ask whatever you wanted to know. Also she wore an amazing costume that somehow made her easier to talk to because she wasn't a person but a Queen.

Y6 pupil Hunloke Park Primary


Gertie works in role as Queen Emma.
The performance element is set in 1044 when Emma has fallen out with her son Edward the Confessor. It looks back across her life and the history, in a simplified way, of the Vikings, Anglo Saxons and the Kingdom of England. Gertie will be in an authentic everyday Queen's costume from that date and use maps and a family tree to help visually with the history.
Pupils will then have the opportunity to ask Queen Emma further questions and advise her as to how to improve relations with her son. The performance element can be presented to a large number of pupils.
It is important to note that like all Whitworks resources, it is not simply history. It includes:
· English – persuasive letter writing, autobiography, drama and synonyms
· PSHE – different families and identity
· Art – creating an illustrated letter
All these activities are based on Anglo-Saxon and Viking history.

Contact Whitworks for more details.

It was easier to learn all the facts because having a person there made it real and we could imagine her world.

It was the most fun I've had in a while.

Y6 pupils Hunloke Park Primary


I learnt that the Vikings attacked Britain because their homeland Scandanavia didn't have enough soil, so they couldn't grow enough crops. In everyday life, Vikings and Anglo Saxons are very similar, in having to grow their own plants, mud/manure houses and clothes.

I enjoyed the fact that it was from Queen Emma's view, and that she displayed emotions helped me understand what she was telling me. It was better than just reading it or being told by a teacher, because it was more fun.

I liked being able to explore opinions from Queen Emma that you may not find on the internet or in books. Also you could ask about things not covered in the talk.

It felt great, being able to imagine you are someone you will never really be. Because it wasn't a play, but something where only a few words were given to you, you had the ability to imagine what your character might have said, and actually say it.

I learnt how to act, to use body language to change your character, and to change emotion. I also learnt all about history, Queen Emma and the Norse invasion, as well as the family tree.


Year 6 pupil Totley Primary School