See what Bess has to say about modern life!
Follow her on Twitter at Bess of Hardwick
@besscountess
WAT has developed age appropriate Bess of Hardwick packages for Year 1 to Year 6.
The playlets were excellent. The children loved planning and performing them and it was an excellent idea for them to act out a play of 'Jason and the Argonauts'. The children loved listening to Bess in role and learned so much from it, as did the teachers!
Year 5 teacher Coddington School
Bess of Hardwick Day for Years 4, 5 and 6

It is 1574 and this rich and powerful woman has an idea to get her blood line on the throne of England. Pupils will hear about her plans, question her and then help her to create the circumstances Bess needs to make her plans successful.

She was really real and looked very rich. It was exciting and scary. Our teacher got into trouble!
Year 5 Pupil Brampton Primary School

Pupils have the opportunity to create and cost a dress design using real fabric samples and historical information. Alternatively they can spend the day developing entertainment for Bess' party.

There is also History and English follow up work as part of the package.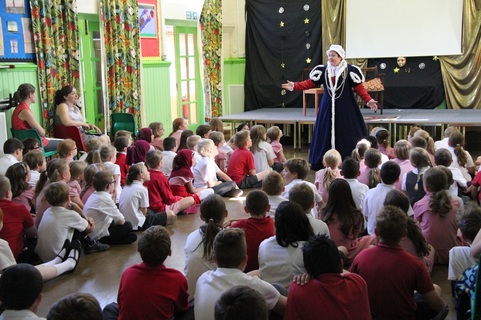 Bess of Hardwick Day for Years 1, 2 and 3
Bess will talk about how she made her fortune and her relationship with Queen Elizabeth 1. Children will have the opportunity to ask her questions.
Out of role Gertie will disrobe revealing the intricacies of Tudor dress.
"Mrs Whitfield's knowledge and characterization of Bess and the times were excellent and this was very apparent during the question/answer time as the children sometimes didn't stick to the focus; When a question was repetitive or off topic, she still answered the child's question which encouraged the children to continue to be engage. One very shy pupil who never speaks when we have people in, took part in discussions which 'WOWed' myself and the TA."

Madelein Persen Year 1 teacher Grassmoor Primary School