Stories From The Home Front
All these Home Front stories will be put in to the national context of WW1 in an age appropriate way.

Whitworks will discuss with you the best options for your pupils. The examples below give a flavour of what is possible.

Munitionettes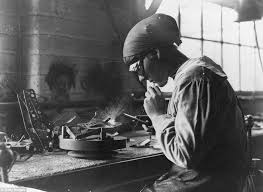 The stories of women stepping in to the jobs of men is a popular and fascinating one. Whitworks uses a script featuring the voices of real working women from WW1 communicating experiences from their lives. Pupils relish the opportunity to engage with this.

"I feel that I understand how people felt because the acting made me feel what it was like in WW1. Also they didn't have emails, or text messages. It had to be sent by letter."
Y5 Boy Charnock Hall Primary School
---
Loss and Disability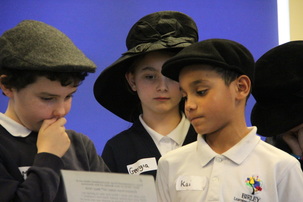 Here Year 5 pupils in Birley Community Primary School, Sheffield, are bringing to life true family stories of loss in WW1.

​This work features two newly written short plays. One tells the story of a Sheffield Victoria Cross hero's family and their experiences; the other follows a Sheffield family through WW1 and explores how they deal with an injured father after his return from war.

"I learnt how horrible it was and the sacrifices they had to make, but it was well worth it. I understand more about how the people of Sheffield felt because of the acting. I will remember the acting the most because I usually don't like drama and acting, but even though it was weird it was fun in the end."
Year 6 boy Charnock Hall Primary School


---
Aliens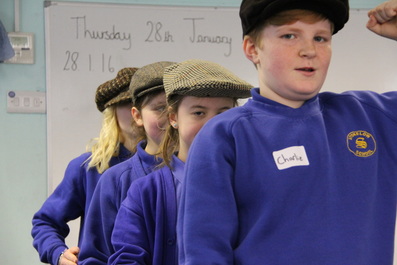 Here pupils are exploring how those of German origin were treated in Britain. They are using original documents such as contemporary newspaper articles.

This work includes an engaging short play exploring the events of the anti-German Attercliffe riots in 1917.

"The things that surprised me the most was that they discriminated against people if their last name was German but they weren't born in Germany. Also, that there was a lot of propaganda up against the other country."
Y6 Boy Stonelow Junior School
---
Food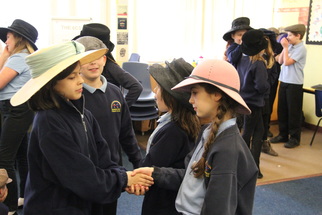 Throughout Europe, blockades and a harsh winter led to food shortages in 1917. The crisis was so severe that eventually rationing was introduced. Here Year 5s at Rainbow Forge Primary School, Sheffield, are in role as WW1 adults discussing the food rules and fining imposed by the authorities.

"I never thought rationing happened and started in Sheffield. It is something associated the whole of Sheffield and it is something important for my home city. It also made me think of my family members were alive in that time and I am glad to think they didn't die."
Year 6 Girl Charnock Hall Primary School


---
Poetry and Drama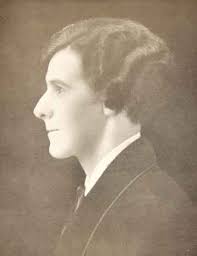 This is Constance Renshaw, a Sheffield poetess, who has helped to inspire this day of poetry and drama exploring the Home Front in Sheffield.


Through the drama, and reading WW1 letters and poems they were able to empathize with people who lived through the First World War in Sheffield. It made them think about the effect on people and imagine what it was like for them at the time.
They were learning so much more than history. The opportunities for speaking and listening were fantastic! The children expressed themselves articulately with emotion and understanding.
Julie Brown Year 6 teacher Charnock Hall Primary School


Appropriate for Year 4 upwards.
​
---